Don't Ape Into NFTs Blind
As if you aren't already tired of me saying it, I will yell this one more time.
NFTs ARE AWESOME!
I say that knowing that 1% of you reading this agree, 50% of you still think NFTs are dumb, and the remaining 49% are trying to figure out what an NFT is and why I am so into them. This article is for that 49%, so I wrote down five easy steps to help you better understand this technology.
Step 1 – Understand the basics.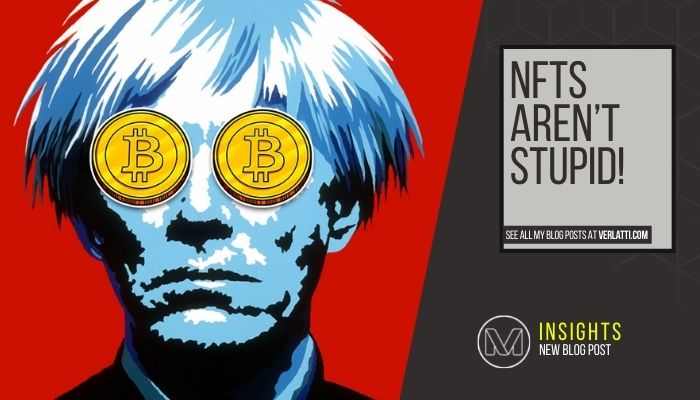 Earlier this year, I wrote an article titled "NFTs Aren't Stupid" where I also shared a blog penned by Gary Vaynerchuck entitled, "What is NFT? Non-Fungible Guide." These two articles should give you a proper baseline to operate from.
Step 2 – Study the landscape.
Cryptoslam.io is a website that tracks and publishes NFT collectable rankings by sales volumes. On this site, you can see the projects that have the most volume as well as the individual NFTs with the highest recent sale price.
Step 3 – Start following 3-5 projects and do a deep dive into their roadmap, founders, and community to understand the hype.
You will quickly learn that the top projects have ridiculously active communities, and this activity will be in full display in their discord channels (if you are asking yourself #HeyVerlatti what's discord? Here's the answer). I highly recommend joining their discord to see the conversations happening and gauge the level of interest there is in the project. My most valuable NFTs have extremely engaged audiences, while the duds that I have purchased typically displayed early warning signs in the form of lack of social traffic.
Step 4 – See what your favorite NFTs are selling for and watch their progress (be aware of both the ups and downs so you know the rollercoaster ride you might be getting on).
Do this for a minimum of 30 days to get a complete picture. I purchase most of my NFTs through a secondary marketplace named OpenSea. When on OpenSea, type the name of your favorite project in the search bar (note: a blue checkmark next to their name guarantees authenticity of the project). Once you find a project you like, filter by Price: Low to High and look at NFTs with a "Buy Now" option. This site is a little buggy, therefore, I encourage you to be patient and pay attention, so you know how the process works prior to getting financially involved.
Step 5 – Be extra cautious of scams.
This community is so new that it is ripe for scammers, and I want to make sure you don't become a victim.
Rule #1 – NEVER Share your seed phrase (this is a phrase that you set up with your wallet and only you know it (keep it that way…)
Rule #2 – There is no undo on the blockchain so make 1000% sure you know what you are buying, and it is the authentic article. The OpenSea blue checkmark is a good way to protect yourself.
Rule #3 – Most transactions are in Eth. Be careful to not confuse a buy or a sell order in another form of currency.
Example – You list your NFT for 1 Eth = 3,110.54 (at time of writing) and you get an offer for 1 USD. Since most sites display the ETH symbol and the dollar sign so small it's easy to overlook that symbol and hit accept… If that happens you are out $3,109.54 and there is no recourse.
There is no arguing that NFTs are red hot this year and they have been an absolute blast for me to learn and trade. I am happy to assist you in any way throughout this journey as I can appreciate how unconventional the entire idea happens to be.
Let me know if you are ready to ape in…
Michael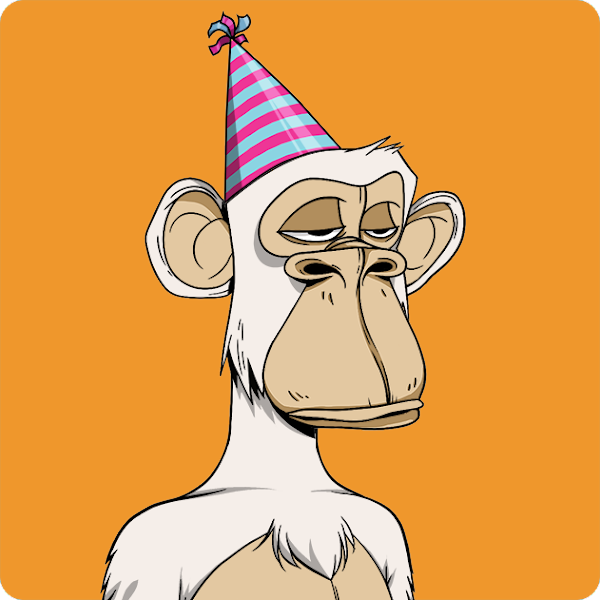 PS:
Here are my top 5 favorite projects!