This past weekend, the NASCAR Cup Series tackled a challenge like never before as we took to the streets of Chicago for our first ever street race. A teammate described the week as a master's level education generated over the span of seven days — and I think he was right.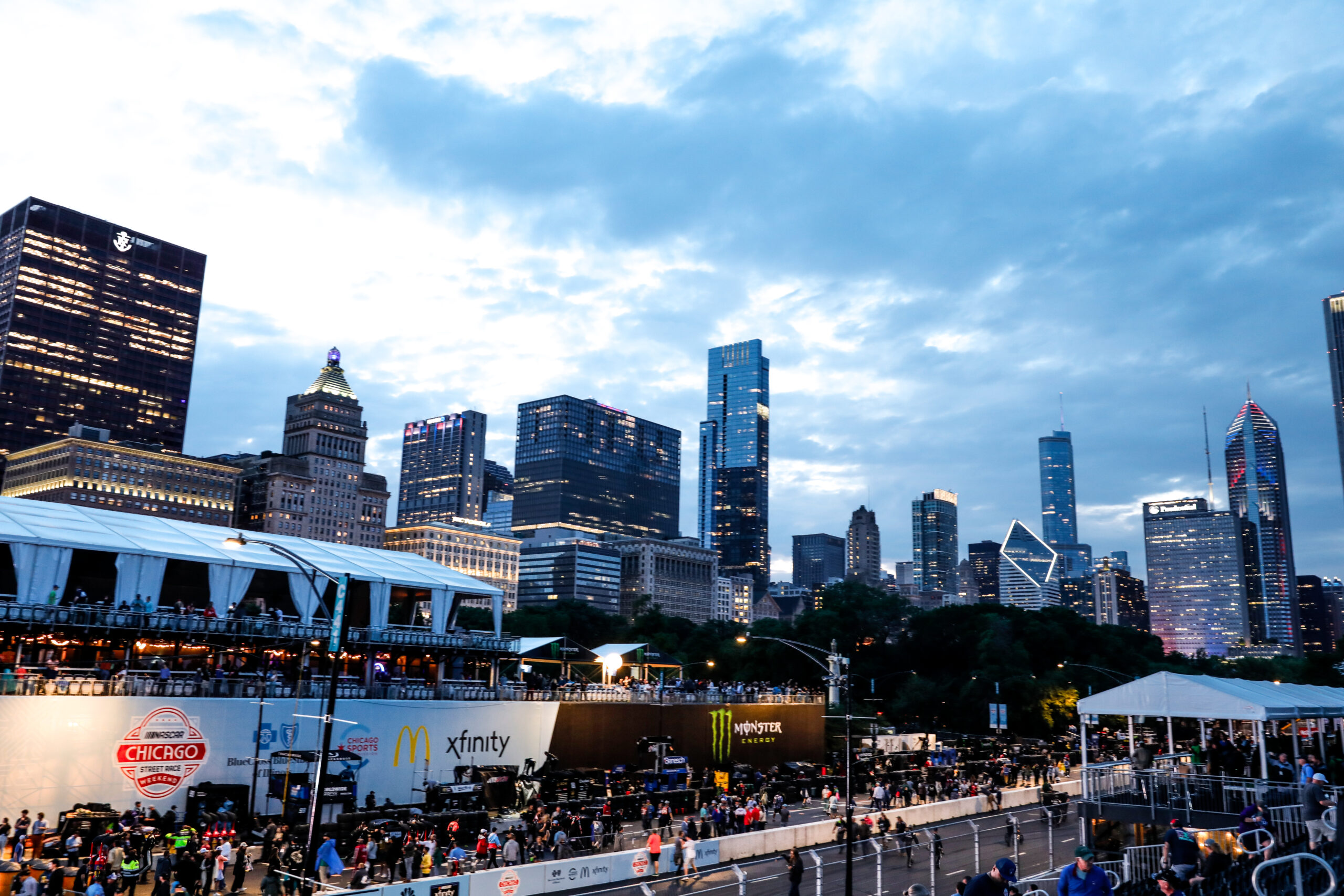 Why was this event so hard:
Most (heck, it's more like ALL) NASCAR Cup Series tracks have been around for a while; our oldest race track, Martinsville Speedway, held its first race over 75 years ago while our newest facility, Circuit of The Americas (COTA), was built in 2012. With age also comes experience; we know how to operate the facility, host large crowds, ensure a safe and exciting event, and most importantly, we have very few variables that are out of the track operator's control. Years of returning to the same venues has enabled us to perfect our craft.
This past weekend we raced our premier division at a temporary street circuit. This was the first time in 75 years that we have ever attempted to hold a points event on a street course. It's as if the NFL decided to play a Sunday Night Football game in an empty lot that they had very little time to set up and then invited the entire city and television viewers from all over the world to watch live.
It's absolutely bonkers…
To prepare for this Herculean task, NASCAR worked closely with video game developer iRacing to create a street course around the Lollapalooza Festival Grounds in Chicago, including parts of historic Michigan Avenue. The city of Chicago is used to hosting large events in this area of town and certainly knows how to operate that site with as minimal impact to local businesses as possible.
Once the video game proved that a race was possible, the NASCAR Design and Development team worked closely with a NASCAR steering committee and city officials to develop a plan that made the virtual event come to life.
After months of hard work, thousands of meetings, and countless sleepless nights the course was constructed, the tickets were sold, and we were ready to open the gates.
Fast Forward to Race Day July 2, 2023…
I left my hotel at 6:30 that morning and made my way to the main entrance when I quickly realized that Mother Nature was going to throw another curve ball our way. We came equipped with street sweepers, jet dryers, and a newly developed wet weather tire but it was crystal clear that this tough event was going to get even tougher.
This new tire was created to enable our cars to race at select courses in the rain, giving us the best chance at getting a race to completion and fulfilling our obligation to our fans. This tire is a new development for us, so the protocols and standards around the event experience have not yet been perfected. Throughout the morning, the questions were coming at me like I was Neo in The Matrix…
Questions like:
Will the published start time be moved forward or back?

How does the sunset impact the potential for shortening the event?

Do we introduce drivers in the rain?

Can we get the fans close enough to see driver introductions?

What if the drivers don't want to walk across a stage in a downpour?

Where and how do you sing the National Anthem?

We had 20 young men and women from the Chicago Children's Choir, is it fair to make them stand in the pouring rain?

How do you prevent a performer from slipping on the stage?

How could water prevent microphones from working properly?

Will we get the fly-by in?

How long can the aircraft loiter before they have to return to base for fuel?

Will the cloud cover lift enough to safely make a pass?
These are just a handful of the questions that were asked simultaneously with no good answer or a way to predict the next question. Thankfully, we had a first-class team of veteran event producers with years of experience. We quickly developed a plan that ensured success — and we divided and conquered.
We sent a team to the PA booth with a script for the public address announcer to read in a weather-tight environment that was proven to work.
Team two headed to the pre-race stage to direct VIP's and drivers to walk across the stage (as safely as possible) at the cue of the PA announcer that they couldn't see and could barely hear.
I led team three to the media center where there was a stage, working microphones, and a camera feed that is traditionally used for post-race interviews. I had advanced this location earlier in the day when it was apparent that we were going to need to get creative. This was the only option that I could find in short notice that had all the necessary connections back to the TV compound and could fit a color guard, 20 National Anthem performers, and our invocator.
The team worked quickly and efficiently to execute a near flawless plan that was developed in the middle of a torrential rainstorm with five key stakeholders.
There is a famous quote from Archilochus that says, "We don't rise to the level of our expectations, we fall to the level of our training," and in those key moments last Sunday I was extremely grateful that the team had trained well, prepared properly, and fell to a level that we were all proud of.
The moral of this story is that no matter how many contingency plans you develop, how many meetings you hold in preparation for the big event, or how many nights you wake up thinking about additional tasks to add to the list, the show will happen, cars will race, and a winner will hoist a trophy over their head thanks to the hard work of a team and a league that is committed to ensuring that their fans get to see the most talented drivers compete each and every week no matter what Mother Nature decides to do.
I have had the privilege to work on some truly special events with great teammates but last Sunday will be ranked on my top 5 list of all-time gigs that I hope none of us relive any time soon.
Hope to see you trackside,
Michael